Oil tank decommissioning and fuel tank removal
Oil tank decommissioning and fuel tank removal
Decommissioning an oil tank and fuel tank removal
Tank decommissioning, recycling and fuel tank removal services are our most frequent requests, as our clients find alternative fuels to petrol, kerosene, gas oil and diesel oil. Our specialist engineers are fully trained and qualified in oil and fuel tank removal and recycling both above and underground tanks. Being confined space trained for working in basements, cellars and rooms inside buildings, they're more than qualified to decommission and remove redundant oil storage tanks. We issue a 'Waste Transfer Notice' and 'Gas Free Certificates' for all our work. Health and Safety are always at the front of our minds when we work. That's why our teams are trained and retrained frequently on best practices.
Processing waste, cleaning and removing a fuel tank
Where possible, the simplest method is to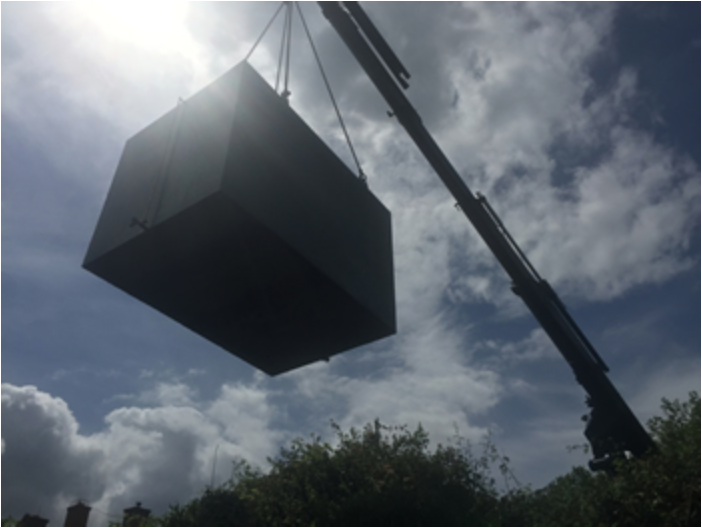 clean and de-gas the tank and remove it wholly using a lorry-mounted crane. When access is limited, cutting the tank on-site is the only option. Our confined space trained engineers use a reciprocating saw for cutting plastic tanks and both that and the nibbler for cutting steel tanks. When commercial fuel and oil tanks need removing, we clean and de-gas the tank, then we test and issue a gas-free certificate. After the fuel tank cleaning process, we are ready for safe removal from the site of the redundant tank. We can use our crane to remove the tank whole if there is access. Otherwise, our team of OFTEC Certified engineers will combine hot and cold cutting. They use a gas torch or industrial steel nibblers and reciprocating saws, respectively, for instance. Then, we will issue a waste transfer notice for the hazardous waste material removed as part of the process.
Our usual oil and fuel tank removal procedure after initial contact is as follows:
Site meeting to assess the tank and survey the site for access.
Issue a quote for the work required.
Agree on a method statement and risk assessment for the works.
Carry out the fuel or oil tank decommissioning services, removal and recycling work. All agreed as per the method statement and in line with the latest Environment Agency guidelines and industry best practices.
Issue waste transfer notices and gas-free certificates.
Other services that we carry out include:
Oil transfer to other tanks on site.
Removal and recycling of remaining waste oil.
Oil pipe pressure testing and clearing.
Environmental remediation and clean up after fuel tank removal, soil sampling and contaminated waste removal.
We focus our services on the customer and are happy to tailor specifications to meet each client's individual requirements.

We cover Bath & Bristol, Somerset, Dorset, Wiltshire, Hampshire and West Berkshire for domestic tank decommissioning.


Commercial decommissioning coverage
Being based in South, Central England allows our engineers to carry out Commercial tank decommissioning work from the Midlands down. We cover areas including Warwickshire, Northampton, Bedfordshire, Buckingham, Hertfordshire, Gloucester, Oxford, Berkshire, Middlesex, Somerset, Devon, Bristol and Avon, Wiltshire, Dorset, Hampshire, Sussex, Surrey, Kent and London.

Do you wish to discuss your requirements further? Do you have a query regarding prices or costs? Want to arrange a site visit to assess your decommissioning requirements? Please call us now on 01722 714514. Or use our contact page.
Fuel Tank Removals
Get a Free Site Assessment of your Oil or Fuel Tank Removal by enquiring here today!
We only employ Professional, OFTEC Qualified Engineers to perform our Tank Removal work.
We issue certifications for Petroleum Officers & Waste Transfer Notices.