Fuel tank cleaning and gas freeing
Fuel tank cleaning and gas freeing
Our tank cleaning service is essential to the maintenance and lifespan of your tank and the machinery the fuel is being supplied to. Make sure your tank and fuel get the care they need.
Why clean your tank?
Storage tanks used for fuel oils such as diesel, gasoil, kerosene and petrol will, over time, build up a layer of contamination. Condensed water builds up at the bottom of the tank forming sludge or a muddy layer. This sludge can start to cause problems down the line with filters blocking, fuel lines clogging, engines stopping, boilers coking up and inevitable downtime.

Tank cleaning, planning and certification
Our tank cleaning service covers both above and underground storage tanks. Depending on the size of the tank and contents we will offer a solution based on our industrial experience and our client's unique requirements. We use a specially designed mobile vacuum tank and a larger vacuum tanker for the big tanks.
Site survey and health and safety
In addition, our service covers a site survey to assess the project. This survey informs our planning of a detailed method and reduces risk by exercising the best practices. In other words, it helps us ensure our personnel's health and safety and a complete cleaning solution.
Man entry for tank cleaning – confined spaces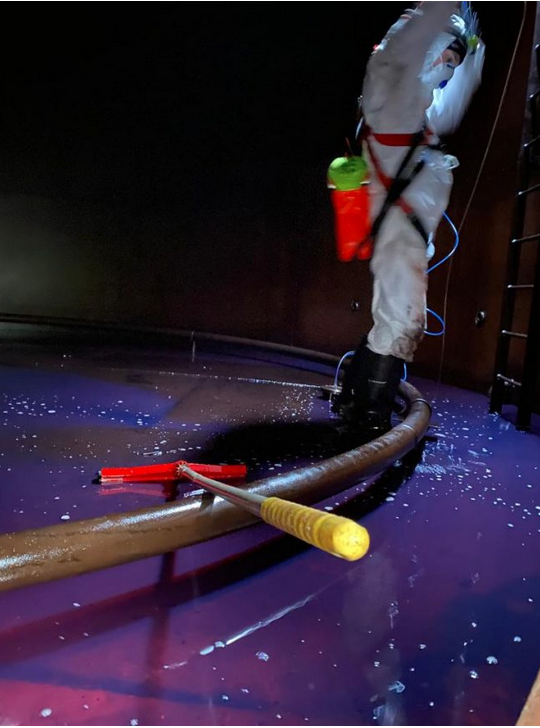 Where required we have confined space qualified teams for man entry to the tank. They can ensure the tank is cleaned to the highest standards.

As tanks begin to empty of their contents, that introduces air into the tank space. Some of the lighter chemicals in the oil or fuel begin to vaporise. This fuel-air mixture can be more volatile than the fuel itself due to the oxygen introduced into the gas.
Best practice techniques
Our highly trained professionals have advanced cleaning systems that give them some options. Inerting or purging the gas, pushing the fuel-air mixture out of the tank. That can either be replaced by an inert gas or assessed to ensure the tank atmosphere is safe.

These industrial tank cleaning techniques are most relevant to removing the tanks after the fuel removal. It also applies to change of product within cargo tanks, chemical tankers and oil tankers where cargo vapour may contaminate the new product.
The tank cleaning workflow
Site meeting to assess the requirements, tank access and overall site conditions.
Provide a quotation and upon approval, issue our in-depth method statement and risk assessment.
Pump any existing fuel into our holding tank, temporary connections are made if required.
Access and clean the tank working to the detailed method statement.
Provide photographs after cleaning.
Refill the tank with the product from our holding tank via our fuel polishing equipment, if required.
Bleed any pipework and pumps, restart boilers and machinery.
Issue a waste transfer notice for the waste management and washing for the operation
Additional services available during a tank clean
Fuel polishing when pumping the fuel back into the cleaned tank.

Fuel oil and diesel testing analysis with a full report of contamination and water content in PPM

Non-destructive testing and inspection when the tank is empty.

Pipework and tank pressure testing and certification.

Bund cleaning and lining.

Change of tank contents, the ideal time to clean the tank and inspect it prior to different produce going in.
If you have any tank cleaning requirements or are in need of rust removal, please contact us. We are happy to provide a no-obligation site visit or discuss your requirements in more detail.
Tank cleaning and gas-freeing
Interested in any of our tank cleaning services? Make sure to contact us for a quote. We can send out an assessor to give you a free quotation. Our friendly team are always happy to help.